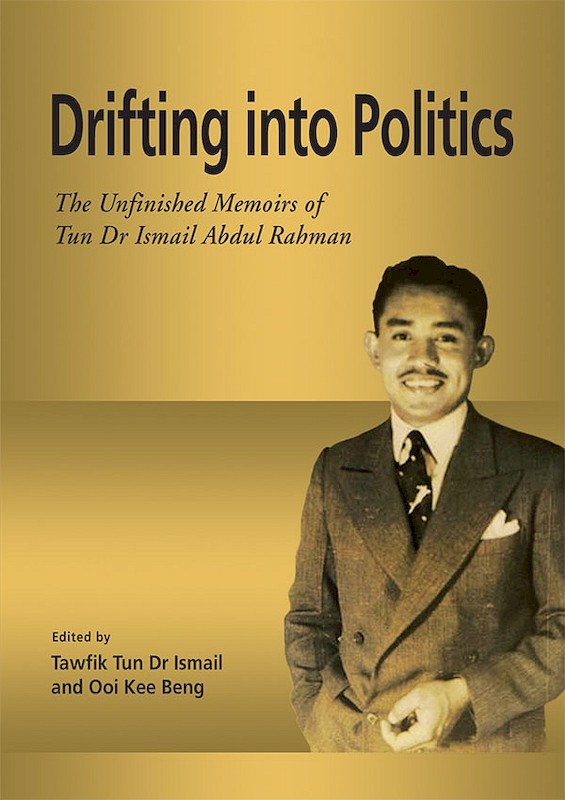 This is the unfinished autobiography of Tun Dr Ismail Abdul Rahman, the medical doctor who held key government positions in the first two decades of Malaysian nation building, and who was an important early player within UMNO, the country's dominant political party. Drifting into Politics was found among the private papers that were handed over to the Institute of Southeast Asian Studies (ISEAS) in 2005 by Tun Dr Ismail's eldest son, Mohd Tawfik.
The family has asked for it to be published in 2015, this year being the 100th anniversary of Tun Dr Ismail's birth. This is an apt time indeed to make his reflections on his own life available to the world. This is also the third book to come out of the Tun Dr Ismail papers which are kept at ISEAS Library.
The Reluctant Politician: Tun Dr Ismail and His Time, the biography written by Ooi Kee Beng and published in 2006 is ISEAS's all-time bestseller, and it brought Tun Dr Ismail back with great impact into Malaysian political analysis and discourse. It has been translated into Malay and Chinese. The second book— Malaya's First Year in the United Nations — has also been welcomed by scholars of Malaysia's foreign affairs and diplomacy. This present volume continues Malaysia's rediscovery of Tun Dr Ismail.
Ooi Kee Beng
Dr OOI KEE BENG was born and raised in Penang, Malaysia. He is the Deputy Director of ISEAS – Yusof Ishak Institute (formerly the Institute of Southeast Asian Studies0; editor of the Penang Monthly; and Visiting Associate Professor at the Department of Public and Social Administration at Hong Kong City University. He was also Adjunct Associate Professor at the Department of Southeast Asian Studies at National
Mohamed Tawfik bin Tun Dr. Ismail was appointed as Non-Independent Executive Director of Man Yau Holdings Berhad on July 23, 2001, and also serves as its Executive Chairman and was appointed to Man Yau Holdings Bhd on 8th May 1996. Encik Mohamed Tawfik is a Member of the Audit Committee of Man Yau Holdings. He has a Bachelor of Arts from the University of New England and a Bachelor of Arts from Oxford University. Encik Mohamed Tawfik started his career in 1981 as a Manager of the Malaysian International Merchant Bankers Bhd. In 1984, he joined Fleet Group Sdn Bhd as its General Manager. He was also a Member of Parliament from 1986 to 1990.
BOOK REVIEW BY R.B. BHATTACHARJEE
This autobiographical narrative of the nation's formative years by a leader who played a vital role in shaping the country's future has an importance that is far larger than its slim size suggests.
Tun Dr Ismail's account of his eventful life at the forefront of national events comes at an especially significant period in the Malaysian journey, when the national consciousness is undergoing great turmoil in the midst of a shifting political, social and economic landscape.
Although the publication of his memoirs comes more than 40 years after his untimely death from a heart attack, it retains a gripping quality today because we are experiencing the soul-searching and direction-seeking which a people undergo at the birth of nationhood.
Dr Ismail's views on national issues will resonate strongly with current readers because he was grappling with questions about race relations, national consciousness and political challenges which continue to preoccupy us.
The core of the book covers 16 chapters in which he recounts his impressions from his childhood as a scion of an aristocratic Malay family in Johor during the British colonial era to his medical education in Singapore and Australia, the awakening of Malay nationalism, the struggle for independence, self-government and his service to the nation as a cabinet member.
Calls to publish Dr Ismail's unfinished autobiography found among his papers had intensified since ISEAS brought out its first book on him, "The Reluctant Politician: Tun Dr Ismail and His Time" (2006), by the institute's deputy director Ooi Kee Beng.
Dr Ismail's family had asked for his memoirs to be published in 2015, to commemorate the 100th anniversary of his birth on November 4.
Although Dr Ismail's life was cut short and he was never the prime minister, his relevance as a national figure can be appreciated even today.
The reason for this is distilled by Ooi, who co-edited this volume with Dr Ismail's eldest son, Tawfik, in the introduction to the memoirs:
"His importance today, judging from the ways he is presently mentioned in speeches and articles, lies in his strong sense of fair play, his respect for ethnic diversity and his principled leadership. The need for these (is) amplified today by their increasing disappearance from the country's political scene."
"My own sense is that young – and old – Malaysians, in despair over the present situation of interethnic and interfaith intolerance, the arrogant mainstreaming of high-level corruption and the dismissal of the rule of law as the only means through which a multi-ethnic society can survive, look to best practices in governance accepted globally and seek some beacon from the country's past which resonates with this aspiration.
"They find the latter in Tun Dr Ismail, among very few others." – November 8, 2015.
* A fuller version of this book review can be found in Options, the lifestyle pullout of this week's edition of The Edge Malaysia.
BFM Merdeka Spotlight – Tun Dr. Ismail
Mohd. Tawfik, eldest son to Malaysia's 2nd deputy PM speaks to BFM's Melisa Melina Idris about what his father was like at home, his fondest memories with him and the challenges of being Tun Dr. Ismail's first-born son. What does Tawfik hope Malaysians can learn from Tun Dr. Ismail's legacy?
The Breakfast Grille will be kicking off their 'Merdeka Series' the week leading up to Merdeka Day 2012 by remembering Malaysia's national figures.
Tune in to BFM 89.9 on the 29th of August 2012, 8am to catch the full interview with Mohd. Tawfik bin Tun Dr. Ismail.